Real Estate with Pools in Cape Coral & Fort Myers
Real Estate with Pools in Cape Coral & Fort Myers
If you're in the market for a pool home in Southwest Florida, particularly those overlooking a canal or the Caloosahatchee River, Cape Coral is the right place to start. Cape Coral homes with pools offer a variety of designs and settings, catering to diverse tastes and preferences.
Innovative Pool Designs in Cape Coral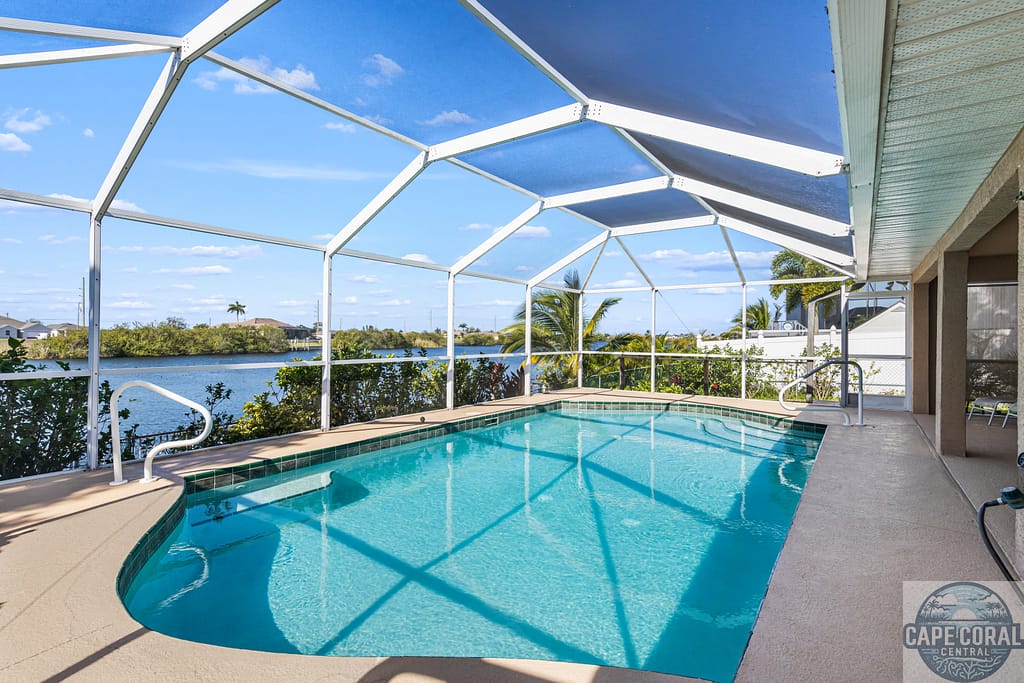 Cape Coral and Fort Myers are home to pools of all shapes and sizes, with the latest trend being infinity-view pools. These pools create a zero edge at the end, offering dramatic views of the surrounding scenery, whether it's canals, the Caloosahatchee River, lush golf courses, or serene freshwater lakes.
Technology and Efficiency in Pool Construction
Many reputable builders in the Cape Coral area specialize in pool construction, incorporating innovative technology and features. These advancements include fire pits and solar heating to enhance energy efficiency. One significant aspect of Cape Coral homes with pools is the lanai, a popular feature that keeps bugs out during summer and maintains pool cleanliness year-round. Popular pool builders in the Cape Coral and the surrounding area are Fountain pools of Southwest Florida, Sunset pools and Venetian pools. Be sure and check these guys out if you do purchase a Southwest Florida home and it does not have a pool.
A One-Click Journey to Find Your Dream Pool Home
Our real estate page offers a seamless experience with a one-click approach to viewing all available homes for sale in Southwest Florida with a pool. This feature allows you to explore Fort Myers pool homes, foreclosed homes with pools, and pool homes on Sanibel and Pine Island effortlessly. Surprisingly, some of these homes start at prices below $100,000, offering affordability alongside luxury.
Pool picture ideas from local homes in Cape Coral and Fort Myers
The Importance of Inspection and Maintenance
When purchasing a Cape Coral home with a pool, it's crucial to conduct a thorough inspection. Ensure that the pumps and all related equipment are in good working order. It's also important to determine whether the pool is saltwater or chlorinated, as each type has its own benefits and maintenance requirements. Your personal preference will play a significant role in this choice.
The Lifestyle of Cape Coral Homes with Pools
Owning a home with a pool in Cape Coral means embracing a lifestyle where relaxation and entertainment are just steps away. Whether it's hosting pool parties, enjoying a quiet swim under the stars, or simply lounging by the water, these homes provide an everyday escape.
Cape Coral: A Community Focused on Enjoyment
The community of Cape Coral is designed for enjoyment and leisure. Apart from private pools, the area boasts public waterparks, community pools, and aquatic centers, making it a haven for water enthusiasts.
Investing in Cape Coral Pool Homes
Investing in a pool home in Cape Coral is not just about the property; it's about investing in a lifestyle. The area's growing real estate market and the enduring appeal of pool homes make such investments both enjoyable and potentially lucrative.
Conclusion
Cape Coral homes with pools represent the pinnacle of comfort and luxury in Southwest Florida's real estate market. Whether you're searching for a family home, a vacation retreat, or an investment property, these homes offer a blend of scenic beauty, innovative design, and a lifestyle centered around relaxation and enjoyment. Good luck in your search for the perfect Cape Coral home with a pool!