Downtown Fort Myers Condos for sale
If you've been dreaming of a vibrant lifestyle, panoramic views, and high-end amenities, downtown Fort Myers has all this and more. From an active art scene to its rich heritage plus tons of outdoor activities, now is the perfect time to look into buying one of the condos for sale in this flourishing Florida city.
Key Takeaways
Explore Downtown Fort Myers for an array of condo communities and desirable amenities.

Riverside Realty Group offers waterfront properties with luxurious features in a lucrative real estate market.

Enjoy outdoor activities, arts & culture, entertainment options and more when living in Southwest Florida!
Exploring Downtown Fort Myers, FL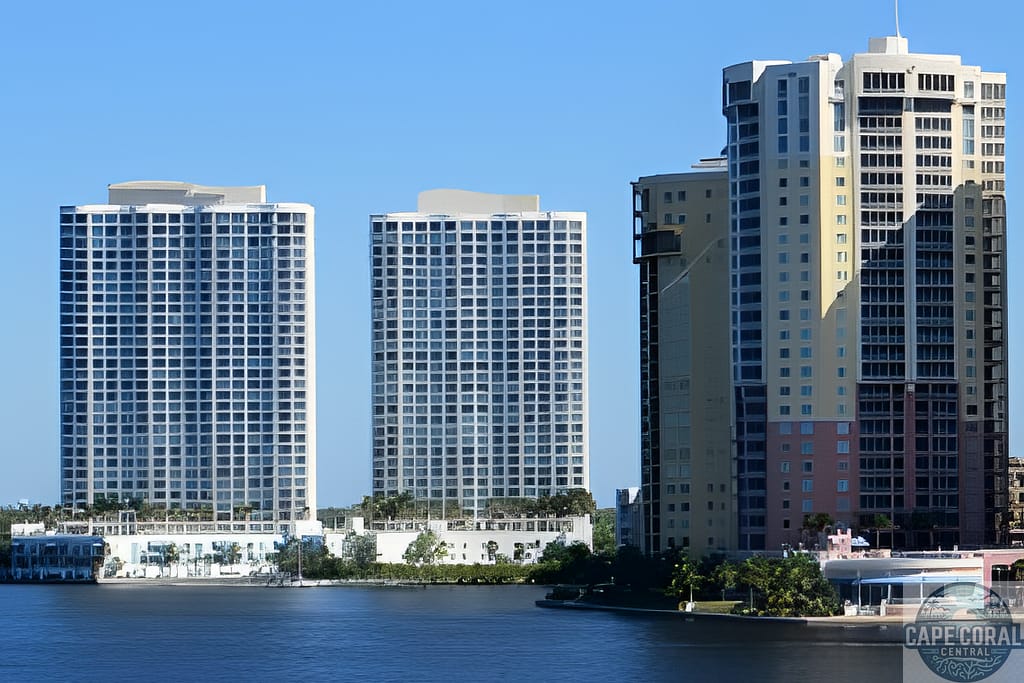 The bustling downtown area of Fort Myers has a great variety of condo communities to choose from, ranging from Pine Ridge At Fort Myers Condo Association and Majestic Palms to Coves Of Estero Bay. Whether you're looking for your dream home or just want the full experience of living close by some amazing attractions such as Edison and Ford Winter Estates, VIP Realty Group Inc. can help make it happen. With so many fantastic opportunities in Downtown Fort Meyer itself as well as nearby locales like Sanibel & Captiva Islands and Fort Myers Beach, finding the perfect home is now easier than ever!
Historic River District
The Historic River District in Downtown Fort Myers is an area full of captivating stories that date back to the early 1900s. This delightful neighborhood has a few features like its brick-paved roads, culinary options at restaurants around, and eclectic shops presenting their offerings surrounded by Beaux Arts and Neo-Classical architecture testifying the district's past. Touring it will offer you an attractive atmosphere plus unique characteristics with one important note: safety rating can be 6 out of 10 indicating some vulnerability compared to other areas within United States. Realty companies as Blue Line Realty will help you find your dream home located in downtown safely.
Caloosahatchee River Living
Living along the Caloosahatchee River provides a gorgeous outlook, various water activities and an amazing lifestyle. Investing in one of downtown Fort Myers' waterfront condos such as High Point Place, Prima Luce or Alta Mar is definitely tempting due to their great location by the river with excellent property values because availability is limited.
People living near this river can enjoy boat tours around it. Explore nature through eco-tours, go kayaking and canoeing on its waters, fish for leisurely activity times – even bird watching opportunities arise from enjoying what this beautiful scenery has to offer! Purchasing any one of these fine condominiums will be more than just buying somewhere safe to live, but also serve as a rewarding investment experience since you'll own desirable real estate that belongs right at Downtown Fort Myers shoreline area next to the impressive view afforded by the Caloosahatchee River.
Top Condo Communities in Downtown Fort Myers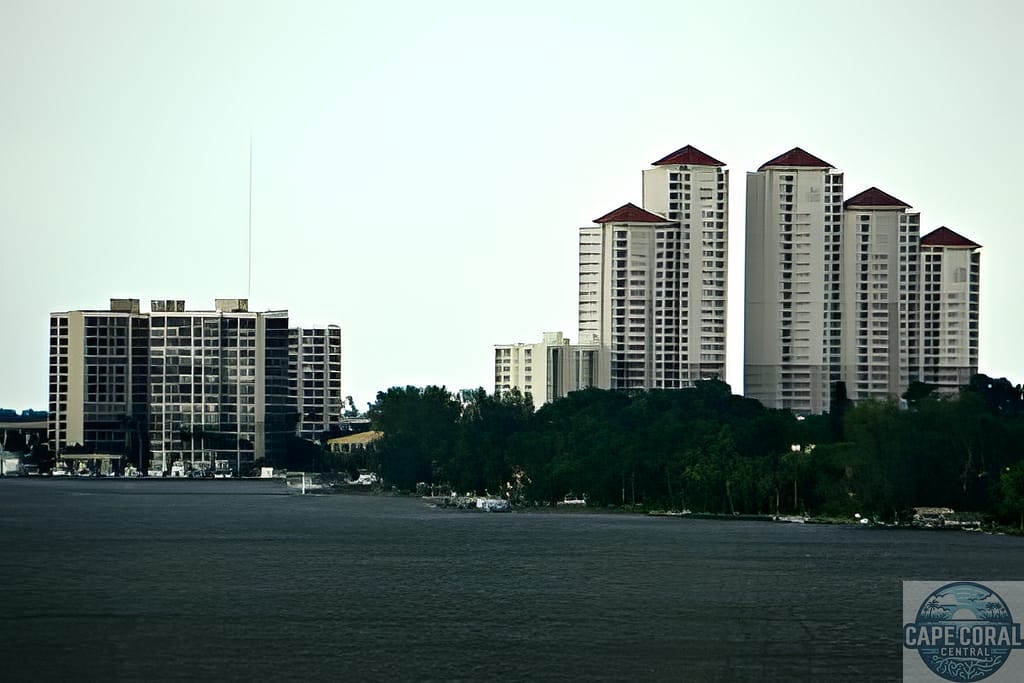 The downtown area of Fort Myers is home to several high-end condo complexes that provide luxurious features and great locations. Three examples in the city are Pine Ridge At Fort Myers Condo Association, Majestic Palms Condominiums, and Concordia Cape Coral. Close to the Historic River District lies Prima Luce, a community with amenities like three tiers of saltwater swimming pools, an up-to-date gymnasium, as well as two personal piers by the river equipped with gazebos. With condos ranging from $304k – $2m+, there's something for everyone regardless of their budget or lifestyle!
EXP Realty Group Gems
EXP is highly recognized for their knowledgeable staff in selecting top notch condominiums located downtown Fort Myers. Among the ones they suggest are Riverside Club, Alta Mar, Beau Rivage and Marina Terrace Condo offering waterfront living and a perfect investment opportunities.
A list of exclusive amenities available to single family homes includes private docks, heated pools, and riverfront views with various floor plans customizing to personal needs.
Market Trends and Home Values in Downtown Fort Myers
The downtown Fort Myers real estate market presents tempting opportunities for investors. The median cost of a home was up 23% from the previous year at $654,627 while 45 different residences are accessible to be purchased which means buyers have multiple options available. When it comes to condos in Downtown Fort Myers, they take an average of 86 days on the market compared with 38 nationally so those buying should factor that into their plan and offer accordingly.
Recent Sales and Open Houses

In the past year, 87 residences in Downtown Fort Myers have been purchased, indicating this area is highly desirable and has potential to expand. Condos are staying on the market an average of 86 days before being sold. Providing adequate time for buyers to make intelligent decisions regarding their selection. To get a better understanding of what's happening in terms of condo sales locally, it can be beneficial attending open houses or observing recent purchases made by others. Being aware of available units will help guarantee a successful buying experience with satisfactory results when finding your preferred property at its fair value cost-wise.
Southwest Florida Lifestyle
The Southwest Florida region provides a lifestyle that centers on leisure and exploration. From the beaches to boat tours, sailing at sunset to visiting historic lighthouses, there are endless activities available for residents and visitors alike. Nature enthusiasts have plenty of nearby parks and reserves they can visit like Audubon Corkscrew Swamp Sanctuary or J.N. 'Ding' Darling National Wildlife Refuge, making it easy for them to explore while also enjoying some peace and relaxation in the sunshine state!
Outdoor Activities and Adventures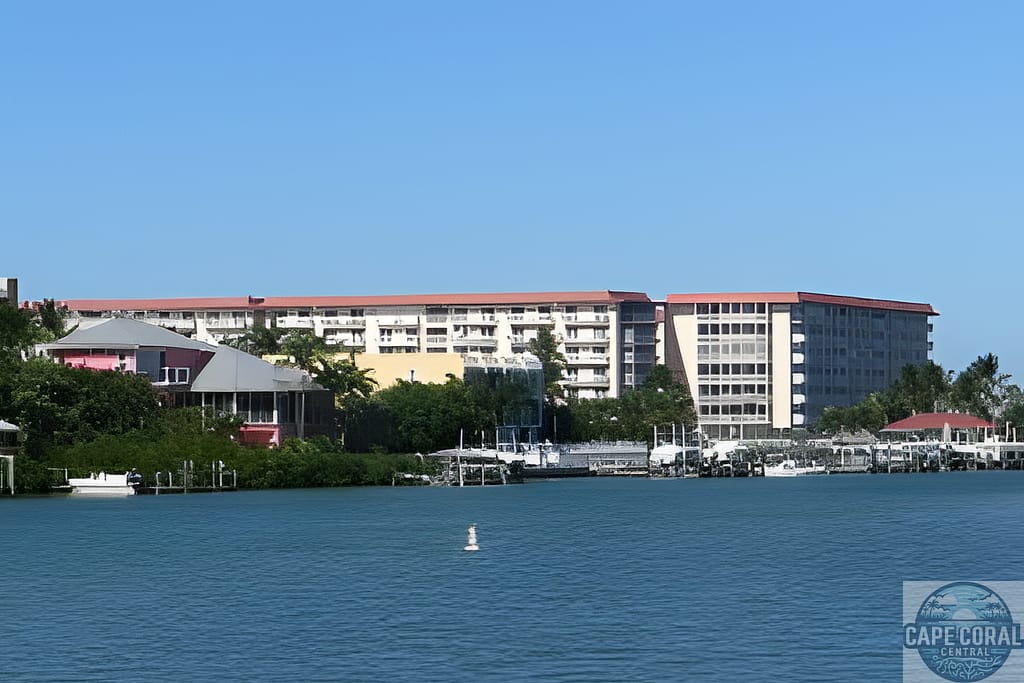 In Fort Myers, FL, there are a wide variety of outdoors activities and experiences for locals as well as vacationers. Top picks include Magic Wind Adventure Sailing, Sanibel Offshore Fishing Charters, Everglades Day Safari and Dolphin & Manatee Adventures. Tours, something to suit every interest!
Fishermen visiting the area can expect some amazing catches with numerous fish varieties such as Redfish, Tarpon plus Jack Crevalle among many others. As far as the best boating spots go, you have your pick: choose between Fotr Meyers itself or take on Bonita Springs To Sanible Island while North Captiva Island's beachies or Cayo Costa complete this list.
Fort Myers offers an abundance of fun things to do out-of-doors that make it unique from other Florida locales. Visitors won't be disappointed by their options no matter what they're interested in doing!
Arts, Culture, and Entertainment

The bustling Downtown Fort Myers district is full of vibrant artistic, cultural and recreational offerings. Home to places like Another Time gallery, DAAS CO-OP Art Gallery & Gifts, the famed Sidney & Berne Davis Art Center as well as Space 39 (all renowned for their unique experiences) the area has a long theater history too. Buildings such as The Royal Palm Theater (1908), Arcade Theater (1915) and Edison Theatre (1941) stand testament to this rich culture.
One cannot speak about art in Southwest Florida without mentioning the illustrious Sidney & Berne Davis Art Center located right at its center downtown Fort Myers. It hosts grand events dedicated to stunning visual arts from around the globe that bring visitors near and far into its fold for an unparalleled experience.
Tips for Buying a Condo in Downtown Fort Myers
The acquisition of a condo in Downtown Fort Myers, particularly close to First St, represents an important financial commitment and requires detailed knowledge throughout the process. The stages associated with buying this type of real estate could include: preparing, starting your search for the right property, identifying a competent realtor, carrying out necessary examinations on the home itself, proposing an offer document upon approval from lenders after appraising and assessing it at the title closing procedure's final stage followed by completing paperwork processes as well as transferring funds between parties concerned.
It is also critical to know more about how fort myers' condominium associations work within these areas too, they are accountable for managing common spaces along with features like facilities or clubs present there together within downtown fort respectively plus they underwrite enforceable regulations while collecting dues payments periodically which decision making works done via community acceptance.
Working with a Local Realtor
When it comes to buying a condo in the Downtown Fort Myers, FL Real Estate market, employing the services of a local realtor is highly beneficial. For instance, Brandy Thomas, Coldwell Banker Residential Real Estate or David Squires from Hayes Realty have all the expertise needed for navigating this area with ease and confidence. Their knowledge extends far beyond understanding community dynamics. They are adept at discerning current trends in housing markets within SW Florida and analyzing pertinent data that can be used when negotiating pricing on your desired property. With their help you will get an accurate idea of fair value plus assistance creating more effective negotiation strategies which ensure you attain the best deal possible through reliable co-realty partners like themselves!
Summary
Downtown Fort Myers is an excellent place to search for a new condo due to its unique mix of past, culture and modern amenities. Whether you're looking for outdoor activities, artistic outlets or real estate investments, this area in Southwest Florida is the ideal spot! Don't miss your chance at experiencing all that it has to offer and finding your dream home in downtown Fort Myers.
Frequently Asked Questions
Is it cheap to live in Fort Myers?
Fort Myers is an affordable place to live as it has a cost of living 4% lower than the national average, and no income tax. Real estate market prices will depend on job prospects in the area. Overall, this city offers low costs for individuals looking to move here.
Is Fort Myers good for retirees?
Fort Myers is a highly sought after destination for those looking to retire, especially within the 65-84 age range. Its desirable climate and array of activities offer retirees an ideal quality of life – making it one of Florida's top retirement cities.
Does Fort Myers have a downtown area?
Fort Myers has a long-established downtown district, notable for its 1924 Edison Bridge across the Caloosahatchee.
What are some popular condo communities in Downtown Fort Myers?
Located downtown in Fort Myers, three well-known condo communities are Pine Ridge at Fort Myers Condo Association, Majestic Palms and Coves of Estero Bay.
What amenities can I expect in a Downtown Fort Myers condo community?
At condo communities in Downtown Fort Myers, a range of amenities can be enjoyed including private docks, swimming pools heated to comfort levels and beautiful views along the riverfront. Residents have access to an array of floor plans for their accommodation needs.
---
POPULAR DOWNTOWN FORT MYERS CONDOS

---

TOP SITE SEARCHES

---