Available Cape Coral new homes from Cape Coral Central

Cape Coral new homes for sale
Cape Coral new homes for sale are designed with attention to every detail. Archways and columns accent the stucco architecture with tile roofs for a clean aesthetic, while upgrades like hurricane shutters offer functionality. The interior of the real estate features a slew of upgrades and renovations as well; crown molding and high ceilings are popular in the more expensive designs, while hardwood floors and energy efficient kitchen and bathroom appliances are common in the majority of the Cape Coral new homes for sale.
More information about Cape Coral new homes for sale
Some of the Cape Coral new homes for sale offer gulf access and pools are popular, too. The area is lush with restaurants and shops, making it easy to get to a variety of attractions from the majority of the homes. Green spaces are also popular for recreation and leisure and golf courses are everywhere in the area, with club houses and driving ranges. Beaches line the coast and I-75 runs just east of the city, for easy access to the variety of beaches and cities that run down the Florida coast.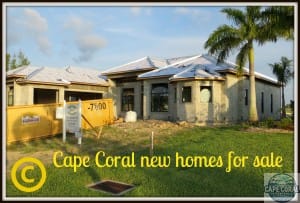 Optimized by Optimole