Cape Coral real estate
Cape Coral real estate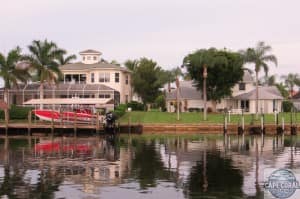 Ever wanted to live in paradise? Well Cape Coral real estate is as close to perfect as you can get. Homes for sale here boast not only a great location but a high standard of living as well.
Nestled amid 400 miles of canals, this idyllic city is a wonderful spot to purchase a home. Cape Coral was founded in 1957 and has grown since then according to a master plan. Gently cruise its canals and enjoy the warm days and balmy nights. Venture out into the Gulf of Mexico for some of the best sport fishing around. Sample some of the local entertainment or, just sit on your back patio and watch the world go by. In short it's a play land for all, whether you enjoy drifting in a boat through the canals or fish off the pier of the Caloosahatchee River. Walk along a sun-drenched beach sipping your morning latte, or go swimming in the warm waters. But then again, water's not the only thing Cape Coral neighborhoods have to offer. It boasts world class dining, shopping, art galleries and museums.
More information about cape coral real estate
But to truly enjoy Cape Coral real estate, you need to have the kind of house that becomes a home. But how do you negotiate the maze of MLS listings out there to find your dream home? Start right here, with our superb listings and detailed descriptions of the many Cape Coral real estate available to you. Whether you're looking for Cape coral real estate to enjoy during your retirement or your first home, you'll find MLS listings in a variety of price points, sizes and features.
Optimized by Optimole